Campground & Parking, Close to the Eldora Speedway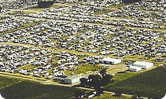 We are a family friendly campground in New Weston, Ohio, which is conveniently situated right next to the Eldora Speedway. Our dedicated campground professionals have decades of experience and are fully equipped to provide you with the relaxing racetrack-inspired vacation you need – at the price you demand and deserve.
Whether your family needs a place to park your recreational vehicle during race day, or wishes to spend the night on our spacious, grassy campsites, Speedy Camping & Parking has you covered and is always here to help. All you need to do is give us a call today and we'll take care of the rest soon.
In the meantime, feel free to take a look around our website to learn more about what we can offer you. If you have any questions or concerns, please don't hesitate to contact us at any time.